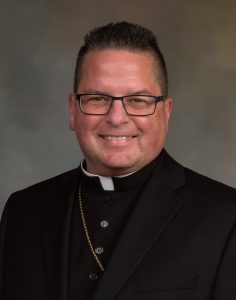 The Most Reverend David J. Bonnar was born on February 5, 1962 in Pittsburgh, Pennsylvania, the fourth of five children to George and Mary Bernadette (Wilson) Bonnar, both of whom are deceased.  He attended Saint Gabriel of the Sorrowful Virgin School and graduated from Seton-LaSalle High School.  He received a bachelor degree in Social Communications from Duquesne University in Pittsburgh and studied at the Pontifical North American College in Rome receiving a Bachelor in Sacred Theology (STB) in 1987 from the Pontifical Gregorian University in Rome.  He was ordained a priest for the Diocese of Pittsburgh on July 23, 1988.
After ordination, Bishop Bonnar served as parochial vicar at Saint Vitus Parish, New Castle; Saint Rosalia Parish, Greenfield; and Saint Thomas More Parish, Bethel Park.  While at Saint Rosalia Parish, he also served as chaplain at Central Catholic High School.  In 1997, he was named Director of Vocations, Director of the Pre-Ordination program, Director of the Permanent Diaconate program and Rector of Saint Paul Seminary in Pittsburgh where he served until 2002.  From 2002 to 2007, he served as pastor of Saint Bartholomew Parish in Penn Hills.  In 2007, Bishop Bonnar was named Secretary for Parish Life and Leadership.  During this time, he also served as Delegate for Clergy (2007) and Episcopal Vicar for Clergy (2007-2009).  In 2009, Bishop Bonnar was appointed pastor of Saint Bernard Parish, Mount Lebanon and from 2018 also served as administrator of Our Lady of Grace Parish, Scott Township.  In 2020, he was named pastor of Saint Aidan Parish, Wexford.  On November 17, 2020, His Holiness Pope Francis appointed him the sixth Bishop of Youngstown.
In addition to his ministerial assignments, Bishop Bonnar has also served on the Diocese of Pittsburgh Post-Ordination Board, Clergy Personnel Board, Seminary Admissions Board, Chair of the Permanent Diaconate Admissions Board, Chair of the Priestly Formation Board, and Chair of the Priesthood Candidate Admission Board.  Since 2014, Bishop Bonnar has been the editor of The Priest magazine and in 2020 was appointed a member of the National Advisory Board for the United States Conference of Catholic Bishops.  For 12 years Bishop Bonnar was also chaplain to the NFL Pittsburgh Steelers professional football team.