"Repent then, and turn to God,
so that your sins may be wiped out…"


Acts 3:10

"Jesus said to them, 'I am the bread of life;
he who comes to Me will not hunger,
and he who believes in Me will never thirst."


John 6:35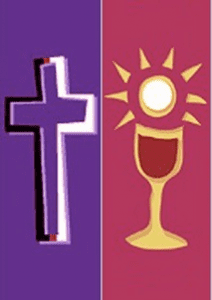 First Reconciliation is a sacrament of healing, where sins that are committed are forgiven.  This sacrament reconciles Catholics with God the Father and with the community.   The sacrament of the Holy Eucharist is a sacrament of initiation where by the power of the Holy Spirit, bread and wine are changed into the Body and Blood of Jesus, or the Real Presence.
For a child to receive First Reconciliation or First Holy Eucharist at Holy Trintiy Parish, the family must be registered members of HTP and actively participating in the life of the parish. Holy Trinity Parish follows the guidelines set forth by the Diocese of Youngstown's Directory of Catechesis which states:
"Normally children baptized as infants are to celebrate First Reconciliation and First Holy Eucharist after two years of catechesis."
For example, a child who would receive First Holy Eucharist in 2nd grade in 2019-2020, would need to be enrolled in the 1st Grade Religious Education Program during the 2018-2019 school year.
Parents/Guardians of children who are being home schooled need to meet with HTP's Director of Religious Education while the child is in 1st grade to discuss the religious education curriculum.
The guidelines also state that:  "Parents/Guardians of students preparing for First Reconciliation and First Holy Eucharist will have two meetings.  One prior to the celebration of each sacrament."
"It is called the sacrament of confession, since the disclosure or confession of sins to a priest is an essential element of this sacrament."  (CCC 1424)
"The inexhaustible richness of this sacrament is expressed in the different names we give it.  Each name evokes certain aspects of it.  It is called:  Eucharist, because it is an action of thanksgiving to God."  (CCC 1328)
For more information regarding HTP Religious Education Program please view
https://holytrinityelo.org/faith-formation/ccd/
or by calling the Parish Office at (330) 385-7131.