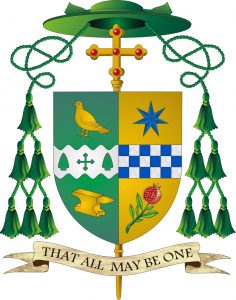 In accord with the Roman Catholic Church's heraldic tradition, the coat of arms of a bishop is normally composed of:  a shield with symbols coming from family, geographic, religious, and historical meanings from the bishop; a golden processional cross with one traversal bar to represent the rank of the bishop impaled vertically behind the shield; a green hat (galero) with twelve attached tassels; and a banner with the motto located beneath the shield.  The episcopal motto chosen by Bishop Bonnar are words taken from the Farewell Discourse found in the Gospel of John,  "…that all may be one.  As you, Father, are in me and I in you; may they be one in us, that the world may believe that you sent me…" (John 17:21), to underline the unity of the Church and its shepherds.
The left side of the shield is representative of the coat of arms of the Diocese of Youngstown.  The golden dove is in honor of the patron of its cathedral, Saint Columba, and is also taken from the arms of Pope Pius XII who created the diocese in 1943.  The golden anvil symbolizes the industrial landscape that has dominated much of northeastern Ohio.  The silver wavy bar represents the Mahoning River that flows through the city of Youngstown.  Two arrowheads recall the first residents of the area and is flanked by a cross taken from the arms of the Diocese of Cleveland from which the Youngstown Diocese was formed, symbolizing the faith passed on from one community to another and from generation to generation.
The right side is Bishop Bonnar's personal coat of arms.  The chequy blue and silver fess appears in the Diocese of Pittsburgh's coat of arms representing his diocese of origin.  The seven point blue star recalls the Blessed Virgin Mary, whom Bishop Bonnar entrusts his new pastoral ministry.  The pomegranate represents the motto of the Bishop that all the grains of this fruit are united in an only body, the mystical body of the Church.  The field of gold, the first among the noble metals, symbolizes the first of the virtues – the faith – which makes all believe in the salvation given by the Lord.